Robbie Cree - vocals, guitar, keys, harmonica, flutes, accordion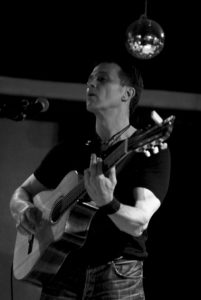 Robbie 'Cree is a native of north-central Montana and the surrounding reservation lands, not far from where Chief Joseph made his last stand.  Witnessing the plight of Native Americans in his hometown  raised his awareness of social justice and human rights. Together with his exposure to world music rhythms from his extensive travels to developing countries on charitable medical mission trips, Robbie forged musical compositions combining upbeat African and Latin rhythm with his love of American blues, jazz, and other musical styles from oppressed cultures.  He studied classical and jazz piano as a youth and has also studied blues, flamenco and bossa nova guitar and blues harmonica.  He was formally the band leader of Flor de Cana and de Mala Fama and played in the Afro-beat project Afrodesiac.  He is a medical doctor who holds a Master's degree in Public Health and is the president and founder of Surg+Restore, a medical charity working in Sierra Leone and Ghana and is Chairman of the Oregon Public Health Association. He composes in English, Spanish and Sierra Leone Krio languages.
Dashel Ruiz - lead guitar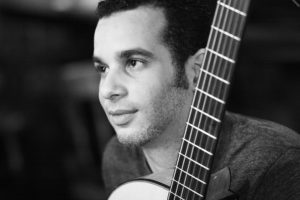 Former Professor of Music at the University of Havana, Dashel Ruiz Perez has extensive training and teaching experience in classical, jazz and flamenco guitar.  He formerly played with the Cuban bands Acetunas sin Huesos, Buena Fe and the Spanish Ballet of Havana, prior to defecting to the United States through Mexico. He has credits on radio and television compositions in La Habana and has played with Portland bands, Flor de Caña, the Bobby Torres Quartet and Pepe Raphael.  His extensive knowledge of Afro-Cuban rhythms is a foundation for Ojos Feos' all-original and creative style and lend uniqueness to his captivating improvisations on the electric guitar.
Gaia Villarroel- vocals
Gaia is an International Studies major at PSU with a background in photography. She has
worked and volunteered for organizations such as the National Network for Immigrant &
Refugee Rights in Oakland, CA, the post-Katrina relief organization Common Ground in New
Orleans, LA, and Planned Parenthood in Portland, OR.  Gaia plans to continue her focus on
humanitarian work both at home and abroad, and in her musical compositions.  Her lyrical content has been influenced by the many places she has lived, including Valparaíso, Chile, and her extensive travels thru rural America by freight train.  She is also  band leader of the hill country blues band, Ripe Red Apple and is co-owner of the Portland-based indie record label, La Villa Recordings.
Chris Hale - bass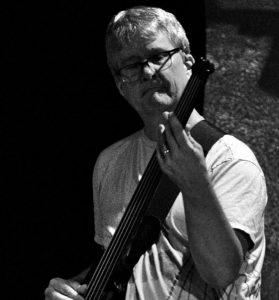 Born in San Diego California, Chris has played both the electric and acoustic Bass for 29 Years and was a university music major.  He has spent a great deal of his musical career playing a multitude of style such as jazz , rock, flamenco and world fusion. He was a founding member and band leader 0f the experimental fusion group Zindu, in southern California, before moving to Portland in 2008.  Here in the Pacific Northwest he has immersed himself  in the blues and jazz scenes and has played  with Hi Fi Mojo, and also as a studio musician.
Jeff Sullivan - electric violin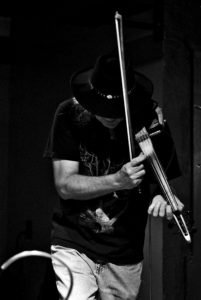 Jeff Sullivan was born in San Fernando, CA, and grew up in the L.A. area where he studied music as a youth.  He has spent 31 years as a violinist for different projects both in Los Angeles, and Portland.  He has been involved in the music scene in Portland since he relocated here from Los Angeles in 2002.  He presents a unique and virtuoso style of electric violin, often utilizing various effects from his enormous pedal board.  His musical projects in Portland have included the Shannon Tower Band, Synchronic Wave, and Baktun.
Erick Sherman - drums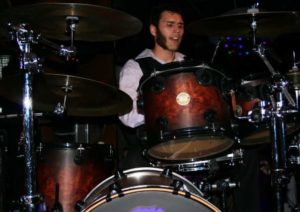 Erick Sherman. Chicago transplant. Drummer. Has toured and recorded with a number of bands across the U.S. including but not limited to Luxotica Lounge Cabaret (Exotica themed jazz/burlesque combo), Rachel Mason (LA & NYC singer-songwriter and political performance artist Future Clown), Electro Mehteran (Comical Prog Rockers), The Embraceables (Pop), Super Happy Funtime Burlesque (Narrative-based burlesque group) and Everything Now! (Psych Rock). Appeared in Modern Drummer Magazine in 2006.
Eric Johnston - percussion
A lifelong percussionist, Eric spent his formative years forming and playing in rock, blues & ska bands.  Also a lifelong humanitarian, he has spent countless hours volunteering to help the less fortunate in the Portland area, most notably when he was working with Transitional Youth, a local non-profit that helps homeless youth transition off the street.  In an attempt to learn the Spanish language, he moved to the Dominican Republic in 2010, where he was not only immersed in the language and life of the people in one of the poorest neighborhoods in the country, but also immersed in the sounds of merengue, bachata, & regatón.  After living in the Dominican Republic, he returned with a passion for Latin percussion, including the congas, bongo, timbales, and a plethora of handheld instruments.  Eric plays with a variety of Latin bands in the Portland area, such as Flor de Caña, De Mala Fama, Conjunto Alegre, Cilantro and Oleada.